While this blog's purpose is to provide accurate forecasts for major U.S. weather events, weather education, and climate op-eds, today's post is quite a bit different and personal.
What happened?
As you all have known, my black lab/pit bull (?) mix, Jethro, has been very sick these last few days. I have posted updates every day on my Twitter page. Over the last few weeks, he has been vomiting his food and had slowly stopped eating. We took him to the veterinarians and his bloodwork came back okay - nothing was out of the ordinary. So, we just went on as usual and didn't think anything of it until it continued on and on for weeks.
On Wednesday, my mother took Jethro to the vet again to see if they could figure out what was wrong. Both my mom and I had noticed his breath had become very potent over the prior weekend, and the veterinarian confirmed that, so they took him in. It turned out that his kidneys were failing, but they weren't sure why. They initially thought he had leptospirosis, which is a bacterial disease that attacks the kidneys; and bad breath is a symptom of that in dogs.
However, upon further testing, the leptospirosis results came back negative, which left lymes disease (which he had been treated for months ago) as an alternative explanation (there's about a 1% chance that it can linger and attack the kidneys months down the road from treatment). However, even this was just a possible explanation, thus we have really no closure as to what caused Jethro's kidneys to fail.
Unfortunately, after tireless days and hard work from both the doctors and us, we decided it was best to put Jethro to sleep this morning. He was only four years old… I was heartbroken to see my little buddy fade away to nothing.
A backstory of Jethro
From birth, I grew up with four pets in our house: two black lab/dalmatian mixes, Fred and Ethel (brother and sister) and two cats, Simon and Groucho (brothers).
• In 2008, Simon, almost 9 years old, got cancer and had to be put down.

• After Simon passed, my dad brought home a cat for me, a tabby, that five-year old me decided to name "Stripey" (pronounced "Stripe – eee"). Time has flown by so fast, it's hard to believe that he is now 11 years old.

• In 2010, a female tabby cat that looks a lot like Stripey adopted us. She has been with us ever since; we don't know how old she is, but given she has been with us for 9 years, we think she's around Stripey's age. My father named her "Bean." When she came to our doorstep, she was missing patches of hair; she was abused by her previous owner(s). She has come a long way over the years and she is still a bit skiddish (I don't blame her).

• In 2013, we had to put Groucho down; he was 14 years old.

• Two years later, and months apart from each other, Fred and Ethel (both aged 15, which is incredible for labs) had to be put down. Years ago, I don't exactly remember when, Fred had run off one evening and was hit by a car which broke his leg (he was never able to walk the same again). The same veterinarians who took Jethro in did an outstanding job mending his leg after being hit.
Because all of our pets were nearly four years of age by the time I was born, I never got to experience having a puppy like many of my friends had. For months after Fred's death, we searched for one. In November of 2015, we found Jethro (his name was "Nike" at the time) at Briggs Animal Adoption Center near Charles Town, West Virginia.
I got to walk him around outside and play with him for a few days. At first, I must admit, I was skeptical of getting him. He was very skiddish and shy, something I didn't understand at first. However, I gave him the benefit of the doubt.
By Christmas time, I was losing hope because we hadn't adopted another dog yet, but I was surprised and shocked when I opened up my last gift; it was the picture of Jethro above. It was the best Christmas gift anyone could ask for. Employees from Briggs dropped Jethro off at our house the next day, and like that, he was ours for as long as he lived. We decided to name him "Jethro," after our favorite NCIS character, Leroy Jethro Gibbs.
Over the next few weeks, Jethro would often hide at the corner of the couch and bury his head in the pillows. He was very skiddish and would jump and hide at any movement you made. If you raised your hand to reach something, he would bark and shake. Prior to this, we had learned that he and his brother (we didn't know at first, but our neighbors adopted the brother) were found on the street somewhere as puppies.
We eventually came to the conclusion that the two dogs were abused as small puppies by their previous owner(s), which would easily explain why Jethro (his brother not so much) was so skiddish and scared all the time. Despite this, we showed Jethro love and compassion and made his life a whole lot better.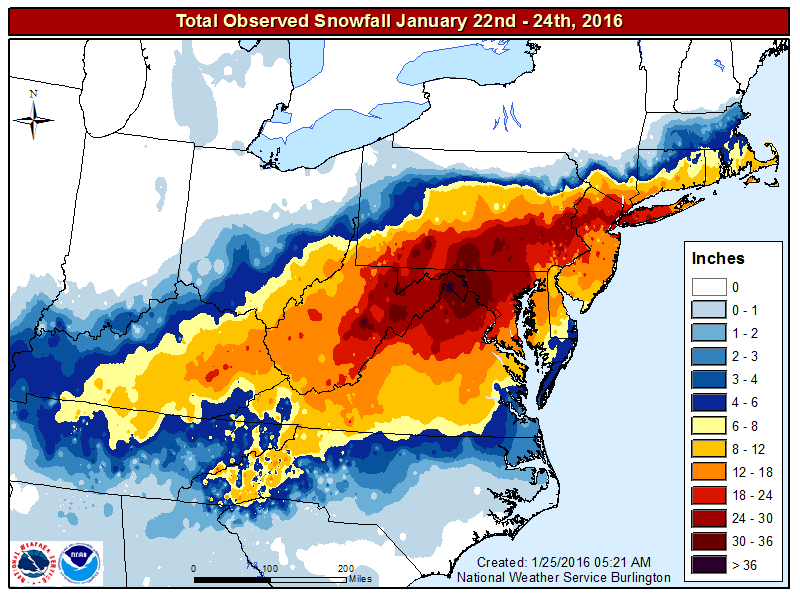 During January of the following year, we got hit by a historical blizzard which dropped over three feet of snow across Northern Virginia and Western Maryland. It was with this massive snowfall that we found out that Jethro loved the snow, probably more than me, and that's saying a lot, ha ha!
Jethro and I would spend all day outside walking through the woods and down the street in the waist-deep snow. We would go down to the creek where he would drink the cold, refreshing water.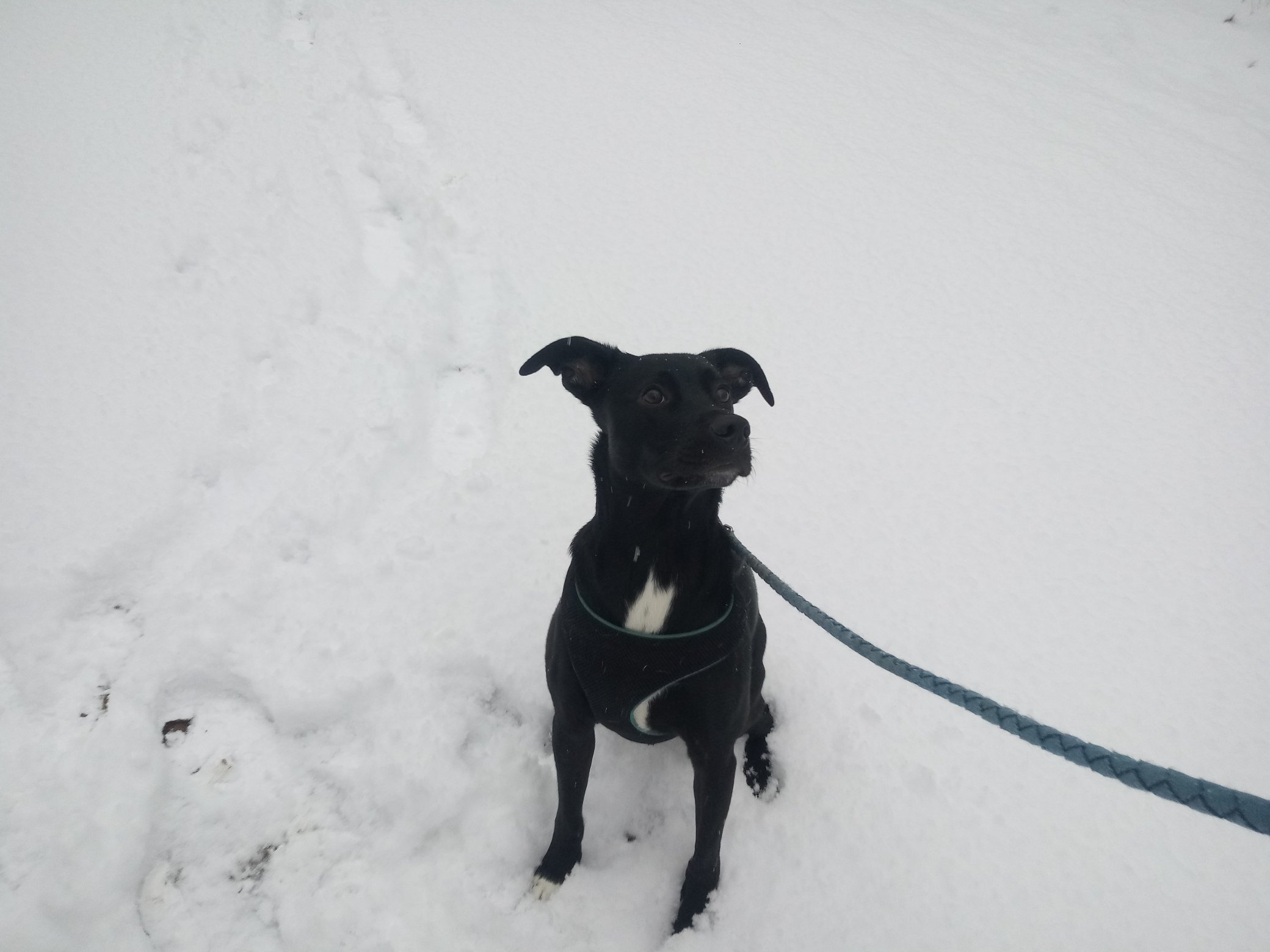 For the next three years leading up until May of this year, nothing about Jethro was of note other than the fact that I enjoyed spending time with him inside and outside.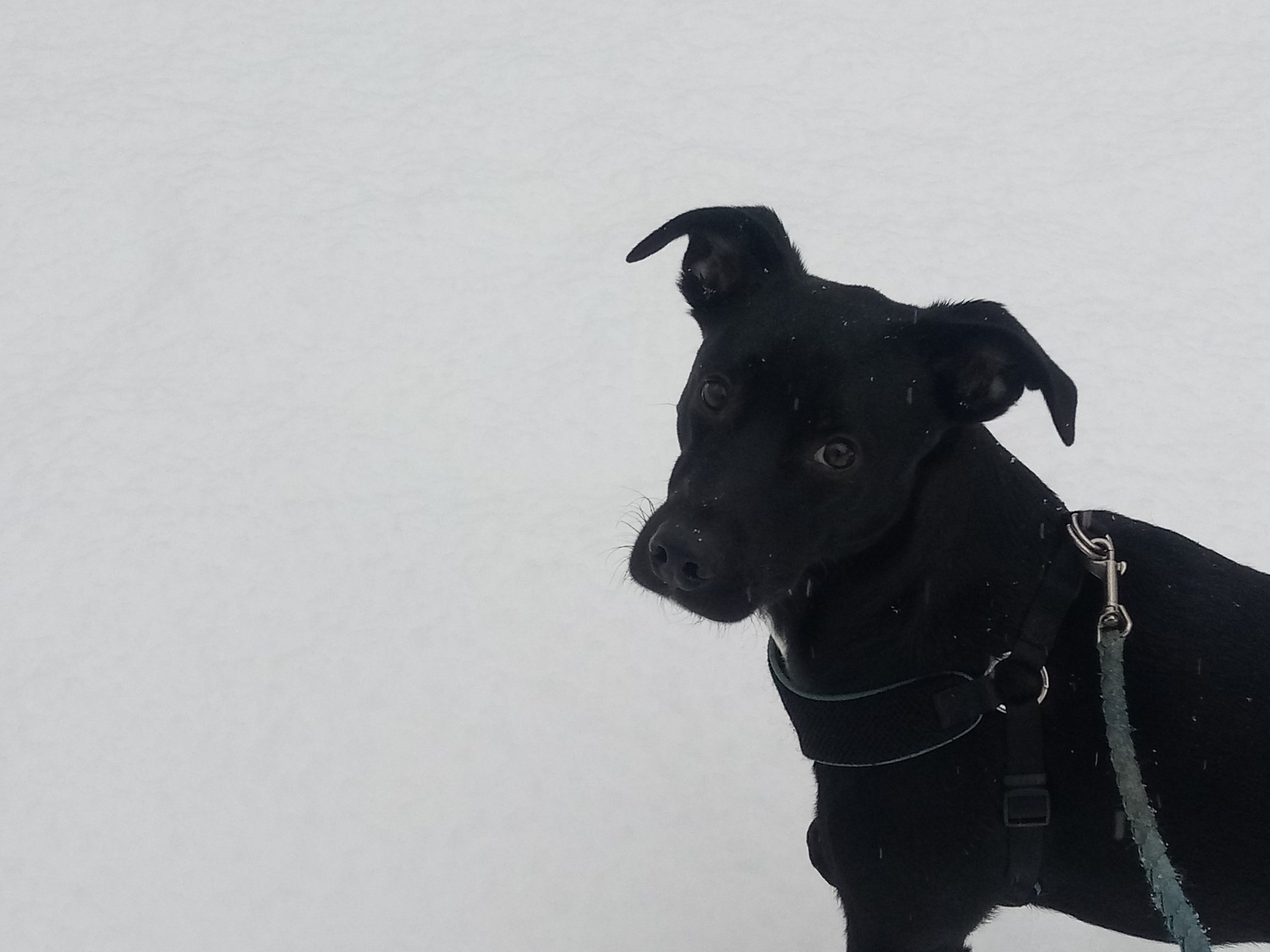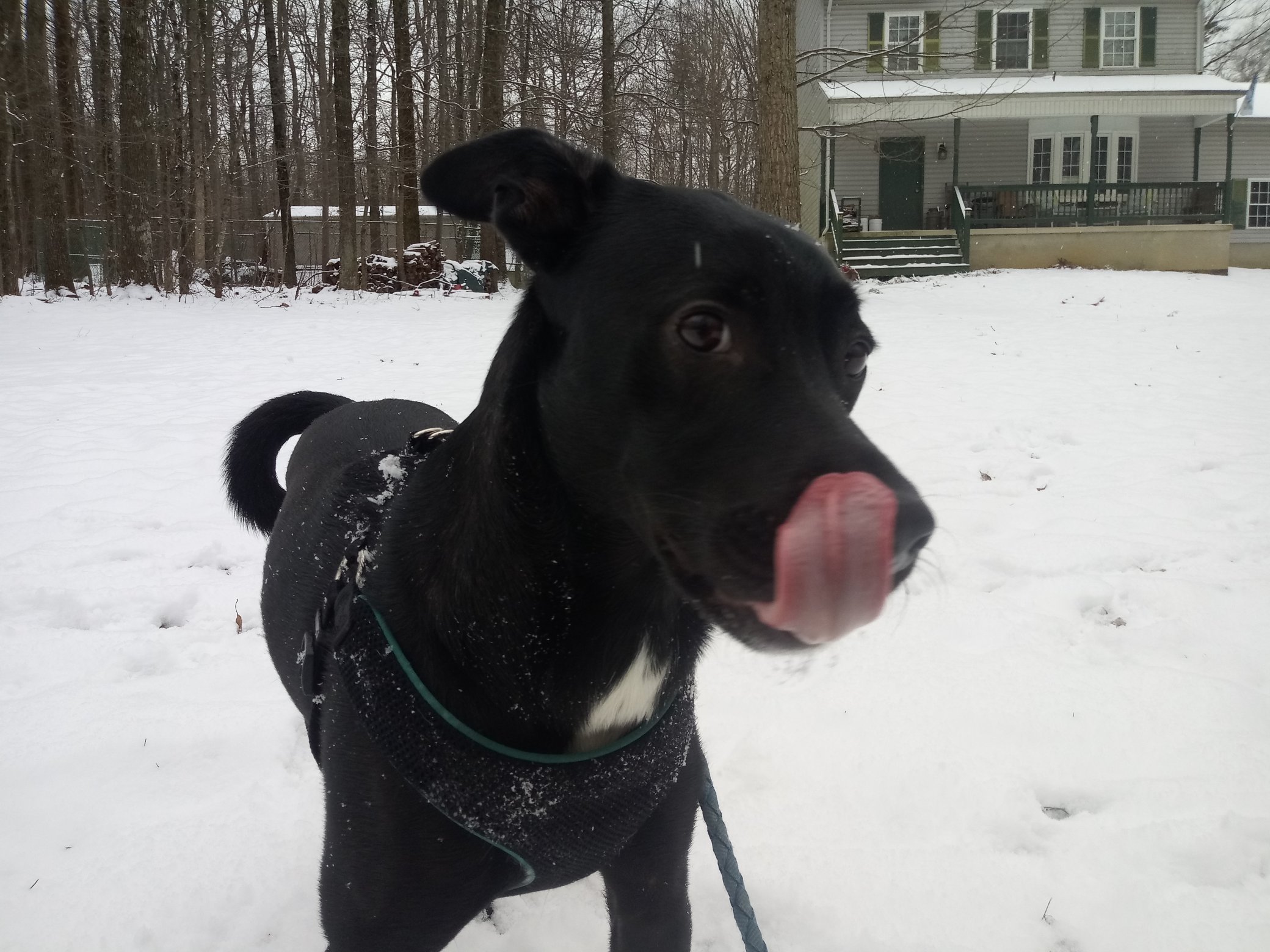 In May of this year, I received my drivers license, and so I decided that I would take Roscoe and Jethro on a ride to the park nearly every Friday, Saturday, and Sunday for a two or three mile run. We had been doing this nearly every weekend up until last Sunday. I was planning on doing it again this weekend, and unfortunately that will not happen (I will take Roscoe tomorrow).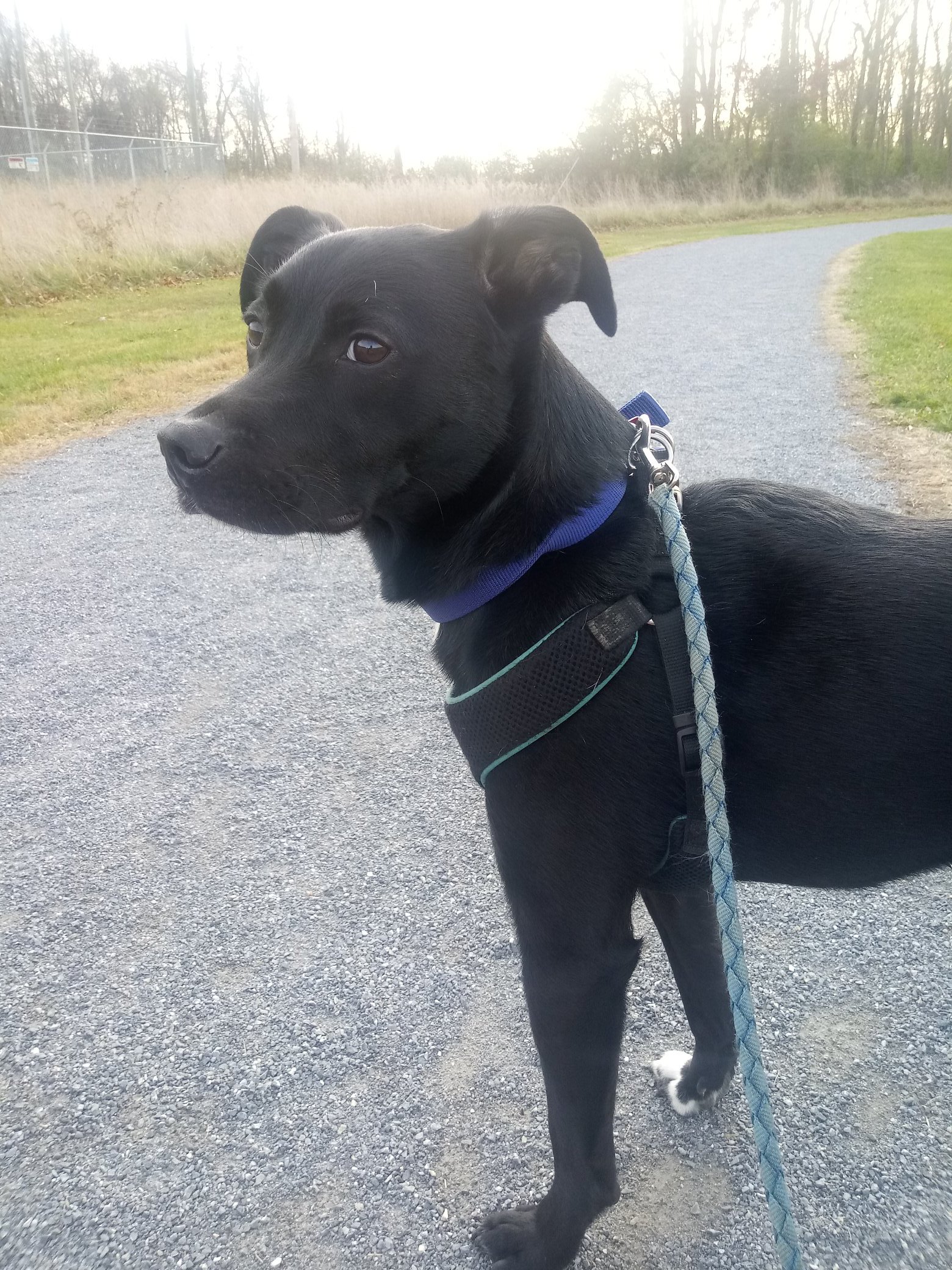 Having to watch my little buddy come such a long way over the last three, almost four years, just to come down with an illness without a known cause, and to watch the best Christmas gift I ever got put to sleep is unbearable. I feel like this is all an illusion, it's not real, and it's a nightmare. Unfortunately, it's a reality.
There have been a few times that I have been too absorbed in other thins like homework, and I hate to admit it, but I must be honest, weather forecasting, that I should probably have spent with puppa. Even though there have been a few times like that, I still cherished the joy he brought into my life over the last few years. He has helped me through some difficulties, stress from school, and has been by my side every day.
All I can say now is that I am glad he is no longer suffering and I hope he is now running free. He didn't have the best start to his life, and he by no means deserved to come down with kidney failure four years later.
I'm forever grateful for the time God allowed us to have with puppa. I will forever miss Jethro and all of the greatness he brought into my life. Life is about changing, nothing ever stays the same, but regardless, there's an empty void in my heart now that will never be replaced.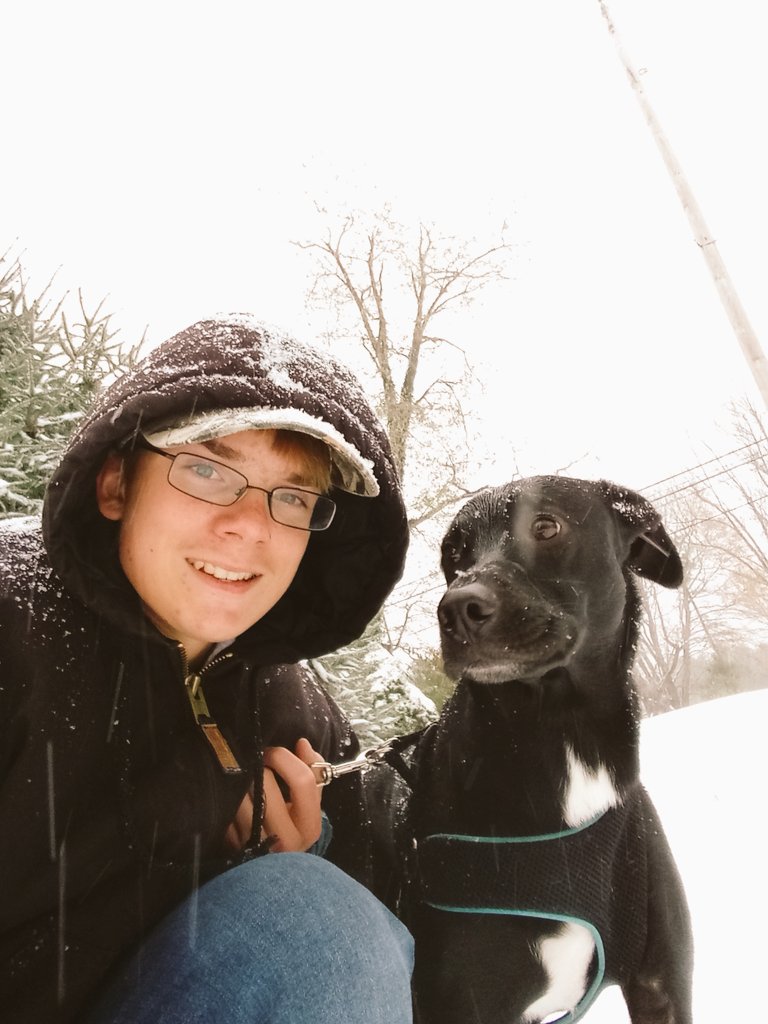 ---
---
Categories: Weather